SKYLIMIT TRACKDAY 22 OCTOBER CIRCUIT ZOLDER2014-10-29
---
We organized again an afternoon free driving at Circuit Zolder. Many cars showed up and the weather changed a few times. Lisa Linke was also there to shoot these photos. A link to all pictures she made you can find at the bottom of this blog post.
This beautiful Audi TT RS drives on the wet track in the sun.
Autumn is back in town as you can see.
We don't see many customers with a Nissan Z.
But today we had 2 of them
This Cadillac is looking like a luxury car but has a lot of muscles inside
More American muscle with this Camaro and Corvette
The Race Promotion Night is coming closer so a few teams used the trackday to test.
The M3 of the brothers Franssen will be fast again during that race.
This QSR Clubsport Trophy BMW will be raced by some drivers we know very well... more news soon
The race Taxi Skylimit Yokohama Porsches were fast again!
Good rain tires produce more spray.
No trackday without a Porsche 944
One of our German customers with his Opel Speedster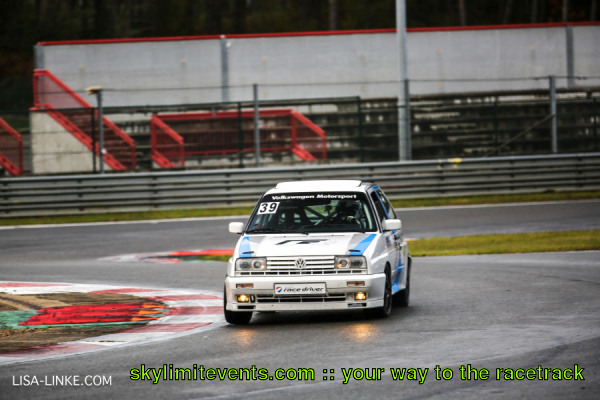 As usual Simon Podhalicz did some laps with his VW Golf Rally
This classic MG Metro is running very well on a racetrack
Test Driver had some happy customers too.
More photos you can find here : www.skylimitphotos.be